To be able to help you we need to make sure we are the right service to meet your needs, please make sure you have read through the following.
You need to be registered with a Thurrock GP.
We can only accept referrals from you if you are registered with a local GP. This enables us to make sure you have a primary care professional before and after treatment with us.
You need to be aged 18 or over.
We are the specialist service for people across Thurrock aged 18 and over.
If you are under 18 please visit the Emotional Wellbeing and Mental Health Service (EWMHS) which is provided by NELFT NHS.

The service is for anybody aged between 0-18 living in the Southend, Essex and Thurrock areas and is free at the point of entry. The service is also for young people with special educational needs (SEN) up to the age of 25.

Call 0300 3001600 to access the EWMHS during working hours 9am-5pm, Monday – Friday or visit their website http://www.nelft.nhs.uk/services-ewmhs
You should not be having treatment with another therapist or mental health service.
If you are seeing another therapist or engaging in treatment with another mental health service, it is not advised to have more than one therapy at a time.

You may be under the care of a secondary care mental health service, like Grays Hall, where you see a psychiatrist for medication reviews but are not engaged in psychological therapy. If this is the case, we would advise that you discuss with your psychiatrist or care co-ordinator first before you make a referral to our service. It may be that we are able to help you, but this should be in collaboration with secondary care.
If you are registered with a GP, are aged 18 or over and not currently working with a mental health professional please visit our online referral area to refer yourself.
If you are a professional and need to refer a patient, please ensure you complete the form as fully as possible.
Chrissie was patient and kind and has given me the tools and advice I needed to make changes to free myself and I will be forever grateful.
- Service User
I feel that I have the tools to move forward. I found my experience a very positive one from beginning to end.
- Service User
I have had 8 sessions of CBT and the things I have learnt have helped me so much. I was taught how to challenge my own thoughts and not guess at what people might think.
- Service User
If you're unsure about doing this – don't be! ! It's helped me massively. I'm feeling such a stronger person.
- Service User
I found my experience a very positive one from beginning to end.
- Service User
Read people's own experiences of using our service.
We use an independent online feedback platform called Care Opinion to gather feedback about people's experiences. This allows us to find out everything that people have to say about their experience of therapy with us. This enables us to learn what people like, and what we can improve on.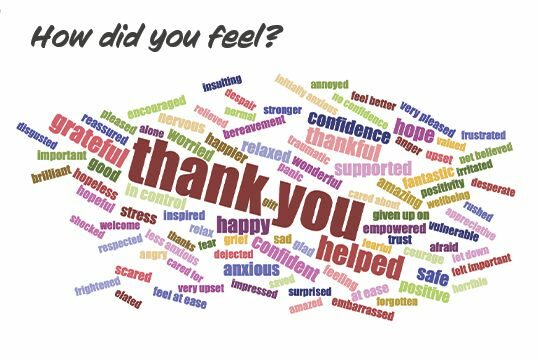 What difficulties we can help with?
There are a whole range of emotional and mental health difficulties we can help with.